This is the coolest IWC fake watch with rose gold indexes online that you've never heard of.
There's a very good chance you've never heard about this watch, nor seen any pictures of it, despite the fact that it's not some brand new release dropping today. And why might that be? First off, it's not even on IWC's website. So you can imagine my surprise when, flipping through IWC's 2016/2017 catalogue, I landed on this watch. Immediately I knew I had to get my hands on one to take a closer look.
The reason IWC hasn't talked about it until now – and I suspect that will change very soon – is because the company likes to focus on one collection at a time. When it comes to new product launches, that's been the strategy at IWC for a number of years. So when it re-launched the Da Vinci line at the SIHH in January, that's what was the press was shown, almost exclusively. But, very quietly, IWC also launched a new copy IWC Portofino with low price, the ref. 5164, and it's one good looking watch.
Not bad, right? In my opinion, it's probably the best thing IWC has released so far this year. The new Da Vinci line was always going to receive mixed reviews, and it did, while the very many complications presented in the new Ingenieurs tried to please everyone but didn't exactly knock it out of the park. This new 45mm IWC Portofino replica watch for hot sale on the other hand? It truly has a lot going for it.
First of all, it has a moonphase complication. It's the complication the Portofino was born with, more than 30 years ago, and its one the current line-up has been desperately missing – it has been available on the Automatic Moon Phase 37, but that also only comes with diamonds on the bezel and/or dial, so it's a different story. It's reappearance in a large case Portofino is therefore a bit of an event.
The original Portofino, reference 5251, was a very large watch due to its movement. It was powered by a pocket watch movement, which IWC turned 90 degrees and equipped with a moonphase display. You could call it a wristwatch, and officially it was, but only because the movement was placed inside a case with lugs and a leather strap, which meant it could be worn on the wrist. In character (and size) it was very much a 19th-century pocket watch.
The new brown strap IWC Portofino Hand-Wound Moon Phase replica watch on the other hand, is very much meant to be a wristwatch. The movement inside is the same base movement found inside the new Portofino Hand-Wound line-up, which includes the ref. 5101. Just like that more basic model, this watch features a small date at three o'clock, small hacking seconds at six o'clock, and a power reserve indicator at nine o'clock (for the eight-day, hand-wound power reserve). But in addition to all of that, you get a beautiful moon phase display at 12 o'clock, and it totally changes the watch.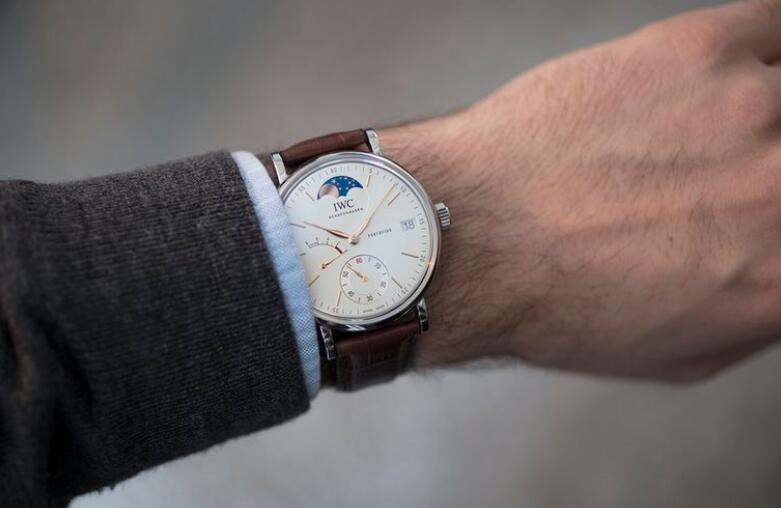 Because of the moonphase module, the case gains 1.5mm in height, but that's where the changes end. It's a big watch, for sure, but that's kind of the point. I'm sure the new Hand-Wound Moon Phase isn't supposed to provide the same experience as the original Portofino, and it works as its own, slightly more compact, wristwatch, but I also happen to like that the two references, which are separated by three decades, are linked by how they wear. Even if you're not usually into larger watches, there's something charming about these for sure.
The accurate fake IWC Portofino Hand-Wound Moon Phase will be available in stainless steel for $13,000, and there will also be a rose gold model with a grey slate grey dial. Both watches come on a dark brown alligator strap with a pin buckle, provided by Santoni.